Airalo Review: A Comprehensive Look at This Unique Global eSIM Provider

In a world that's constantly on the move, staying connected has become more crucial than ever. And with Airalo – the innovative global eSIM provider – you can now enjoy seamless connectivity as you travel around the globe! But what exactly is an eSIM, and how does Airalo compare to other solutions out there? In this comprehensive review, we'll dive deep into all aspects of Airalo and answer all your burning questions about this unique service. So buckle up and get ready for an exciting ride as we uncover everything you need to know about Airalo!
Introduction to Airalo
Airalo is a global eSIM provider that offers its customers the ability to connect to local networks in over 190 countries around the world. The company was founded in 2017 by a team of entrepreneurs with a passion for travel and technology, and it has since become one of the leading providers of eSIMs and mobile data plans. Airalo's mission is to make it easy for travelers to stay connected while on the go, and its eSIMs offer a number of advantages over traditional SIM cards. For starters, they're much more convenient – there's no need to carry around multiple SIM cards or worry about which one will work in which country. Just activate your Airalo eSIM before your trip and you'll be good to go. What's more, Airalo eSIMs are often cheaper than traditional SIM cards, and they offer a number of other benefits such as the ability to change your plan mid-trip, share your data with others, and use your phone as a personal hotspot. If you're looking for a hassle-free way to stay connected while traveling, then an Airalo eSIM is definitely worth considering. In this review, we'll take an in-depth look at what the company has to offer and help you decide if it's the right choice for you.
What is an eSIM?
An eSIM is a type of SIM card that is embedded in your device, allowing you to activate a cellular plan from your carrier without having to use a physical SIM card. This means that you can easily switch between plans or carriers without having to go through the hassle of changing out your SIM card each time. While eSIMs are not yet widely available, they are becoming increasingly popular, especially among international travelers. One of the biggest benefits of using an eSIM is that it allows you to have multiple active plans on one device. So, for example, you could have a data-only plan for when you're traveling and a regular voice/data plan for when you're at home. If you're interested in using an eSIM, Airalo is one of the best providers currently available. They offer both prepaid and postpaid plans, as well as data-only options. And since they work with over 150+ carriers in over 50 countries, you're sure to find a plan that suits your needs no matter where you are in the world.


Benefits of Using Airalo
There are many benefits of using Airalo as your go-to global eSIM provider. For starters, Airalo offers some of the most competitive prices on the market, which means that you can save a lot of money on your international data roaming charges. In addition, Airalo is extremely easy to use – all you need to do is download the app and activate your eSIM card with a few clicks. The whole process takes less than 5 minutes! Moreover, Airalo offers amazing coverage in over 190 countries around the world, which is more than any other eSIM provider. This means that you will be able to stay connected wherever you go. Finally, Airalo provides excellent customer support and is always available to help you with any issues you may have. Overall, Airalo is an outstanding global eSIM provider and we highly recommend it!
How Does Airalo Work?
Airalo is a new type of SIM card that allows you to connect to any one of a number of different global mobile networks. It's an eSIM, which means that it doesn't need to be inserted into your phone like a traditional SIM card – instead, it can be activated directly from your phone's settings. Airalo is currently available in two plans – a Pay As You Go plan and a monthly subscription plan. With the Pay As You Go plan, you simply purchase a certain amount of data in advance, and then use it as you need it. Once you've used up your data allowance, you can top up again at any time. The monthly subscription plan gives you unlimited data for a set price per month, and also includes some additional features such as rollover data and discounts on international roaming. To use Airalo, first you'll need to download the Airalo app from the App Store or Google Play. Once the app is installed, open it and sign up for an account. Then, choose the plan that you want to use and follow the instructions to activate your eSIM. Once your eSIM is activated, you'll be able to select the mobile network that you want to connect to from within the app, and then start using data just like you would with any other SIM card.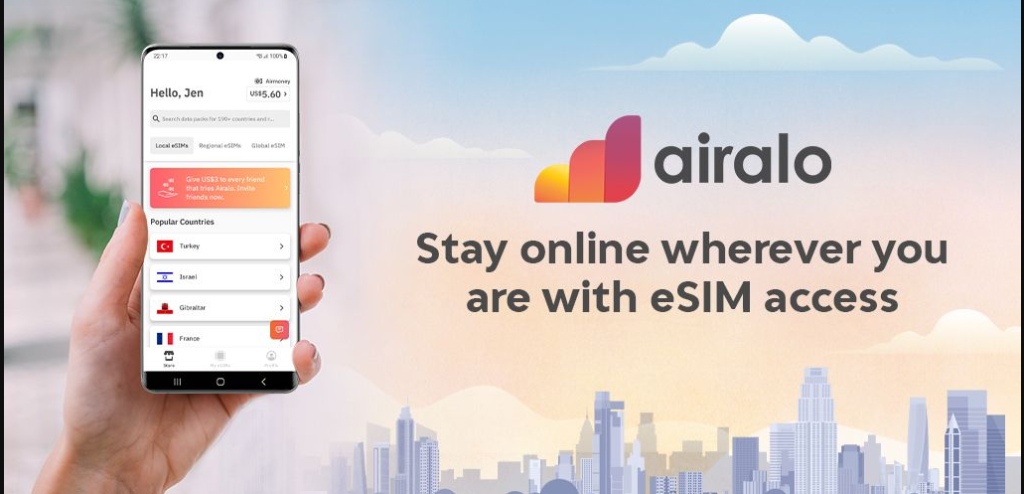 Airalo Plans & Prices
If you're looking for an affordable and convenient way to stay connected while traveling, Airalo is a great option. With plans starting at just $9.99/month, Airalo offers a variety of flexible and affordable data-only plans that can be used in over 190 countries. Airalo also offers a variety of add-ons, such as unlimited calls and texts for an additional $5/month, making it a great option for those who need to stay connected while on the go. And if you need even more data, Airalo has you covered with their "Data Boost" add-on, which gives you an extra 1GB of data for just $4.99. So whether you're looking for a simple and affordable way to stay connected while traveling or you need a bit more data to help you stay online, Airalo has a plan that's perfect for you.
Features of the Airalo Service
Airalo is a global eSIM service provider that offers a variety of features to its customers. Some of the features of Airalo include: -A wide selection of data plans: Airalo offers a wide selection of data plans to its customers, so they can find a plan that suits their needs. -Compatibility with multiple devices: Airalo is compatible with a variety of devices, so customers can use the service on their phones, tablets, laptops, and more. -Global coverage: Airalo offers coverage in over 190 countries, so customers can stay connected while they travel. -No contracts: Airalo doesn't require customers to sign any contracts, so they can cancel their service at any time.
Pros and Cons of Airalo
If you're considering using Airalo as your eSIM provider, it's important to weigh the pros and cons to decide if it's the right fit for you. Here are some of the key points to consider: PROS: – One of the most affordable eSIM providers on the market – Offers global data plans in over 190 countries – No need to carry around a physical SIM card – Ability to use multiple devices with one account CONS: – Limited device compatibility at this time – Can only add one plan at a time to your account – Data speeds may be slower than other providers
Alternatives to Airalo
If you're looking for alternatives to Airalo, there are a few other companies that offer eSIM cards. One is Gigsky, which offers data-only plans in over 190 countries. Another is Truphone, which offers both data and voice plans in over 190 countries. And lastly, there's Surfroam, which offers data plans in over 140 countries. All of these companies offer similar features to Airalo, such as the ability to add a local data plan onto your existing phone without having to get a new SIM card. However, each company has its own strengths and weaknesses. For example, Gigsky offers the most comprehensive coverage of any of the three companies, but its data plans are slightly more expensive than Airalo's. Truphone is the only company that offers voice calling plans, but its coverage is not as comprehensive as either Gigsky or Airalo. And Surfroam has the most affordable data plans out of the three companies, but it doesn't offer any voice calling plans. So if you're looking for an alternative to Airalo, be sure to compare all of your options before choosing one so that you can find the best fit for your needs.


Final Thoughts on Airalo
As someone who's used Airalo for both business and leisure travel, I can say that it's a great service with a lot to offer. The biggest selling point for me is the ability to add data to my phone without having to worry about international roaming charges. Airalo is perfect for frequent travelers who want to stay connected without breaking the bank. And for those who are looking for an alternative to traditional SIM cards, Airalo is definitely worth considering.