Unlocking the Secrets of Korean Skincare with Erborian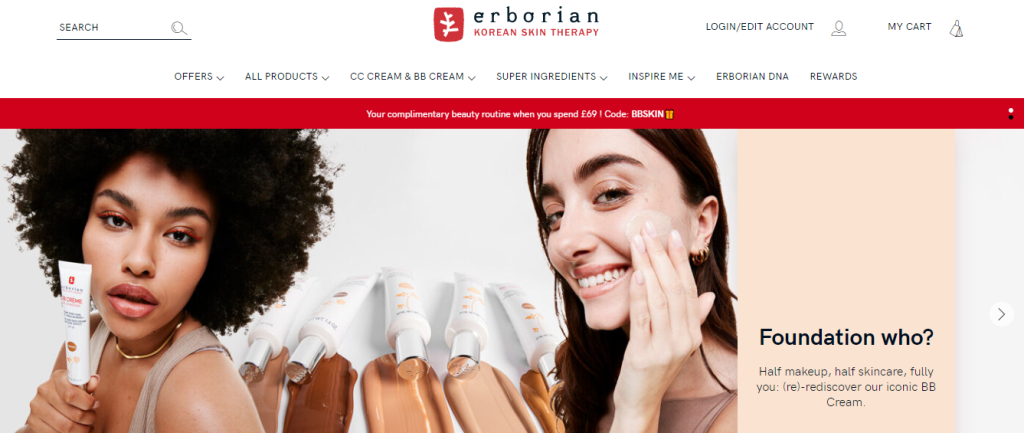 Erborian is a unique skincare brand that combines the best of Korean and French skincare traditions. The brand was founded in 2007 by two women, Hojung Lee and Katalin Berenyi, who were inspired by the success of K-beauty in Asia and wanted to bring these luxury products to the Western market. Erborian's products are designed to address a wide range of skincare concerns, from wrinkles and fine lines to dullness and uneven texture. And they're not just for women – men can also benefit from using Erborian's products!
Here's a quick overview of what you can expect from Erborian: – Luxurious, high-quality ingredients: Erborian only uses the finest ingredients in their products, including ginseng, green tea, and bamboo. – Innovative formulations: Erborian's products are designed to give you the best results possible, using cutting-edge technology and proven Korean skincare methods. – Gentle yet effective: Even though their products are powerful, they're still gentle enough for everyday use. If you're interested in trying out Korean skincare but don't know where to start, Erborian is a great option. Their products will give you the beautiful, glowing skin you've always wanted!
Products Offered By Erborian
Erborian is a Korean beauty brand that offers a range of skincare products formulated with traditional Korean ingredients and techniques. The brand's philosophy is based on the belief that 'less is more', and their products are designed to be gentle yet effective, suitable for all skin types. Erborian's range includes skincare essentials such as cleansers, toners and moisturisers, as well as more targeted treatments for specific concerns like acne, wrinkles and dullness.
They also offer a selection of makeup products, including BB creams, CC creams and tinted lip balms. Whether you're looking to try Korean skincare for the first time, or you're already a fan of the 'glass skin' look, Erborian has something to suit your needs. Browse their website today to see the full range of products on offer. -Erborian Ginseng Infusion Total Eye: A refreshing eye gel that helps to reduce the appearance of dark circles and puffiness. -Erborian Ginseng Milk: A unique blend of ginseng and milk that helps to hydrate and nourish the skin. -Erborian Bamboo Waterlock Mask: A hydrating sheet mask that helps to lock in moisture and leave the skin looking plump and radiant.
Erborian Yuza Double Lotion: A lightweight lotion that contains yuza extract to brighten the complexion. -Erborian Korean Beauty Set: The perfect starter set for those new to Korean skincare, containing four full-size Erborian products.
The Benefits of Using Erborian Products

When it comes to skincare, the Koreans know best. That's why we're big fans of Erborian, a Korean-based brand that makes some of the most effective (and affordable) products around. Here are just a few reasons why we love Erborian: 1. Their products are made with natural ingredients. 2. They're gentle on the skin and effective at the same time. 3. They offer a wide range of products for different skin types and concerns. 4. Their packaging is both beautiful and practical. 5. They're affordable without sacrificing quality.
If you're looking to up your skincare game, we highly recommend giving Erborian a try! When it comes to skincare, the Koreans have got it down. From their intricate 10-step routines to their focus on ingredients like ginseng and green tea, they know a thing or two about getting that dewy, glass skin glow. So when we found out about Erborian, a Korean-based brand that infuses traditional Korean herbal remedies with high-tech French skincare science, we were intrigued, to say the least. But what really sets Erborian apart is its unique approach to formulating its products. In addition to using traditional Korean herbs and botanicals, Erborian also uses modern technology and ingredients from France to create products that are both effective and luxurious. We had the chance to try out some of Erborian's bestsellers, and we've gotta say, we're impressed.
Here are just a few of the reasons why: The products are incredibly effective. We've tried a lot of skincare products in our day, and very few have left us as speechless as Erborian's did. The ginsenginfused CC Cream brightened our skin and evened out our complexion within seconds of putting it on (and trust us, we're picky when it comes to CC creams). And the Ginseng Royal Silk Water Gel Mask was unlike anything we'd ever experienced before—it hydrated our skin without leaving behind any greasy residue. They're luxurious without being
How to Create a Korean Skincare Routine with Erborian
It's no secret that Korean women have some of the most beautiful, clear skin in the world. And while there are a million and one products out there claiming to give you Korean-glass skin, it can be tough to know where to start. That's why we've put together this guide on how to create a Korean skincare routine with Erborian – a brand that takes its inspiration straight from the streets of Seoul. First things first: double cleansing is key. This means using an oil-based cleanser to remove makeup and SPF (sunscreen is non-negotiable in Korea!), followed by a water-based cleanser to really cleanse the skin. Erborian's Solid Cleansing Oil is perfect for this – just massage it into dry skin, add a little water to emulsify, and rinse away. Follow with the Pore Perfecting Water Gel Cleanser for a thorough cleanse that will leave your skin feeling refreshed and hydrated.
Next up, it's time for toner. In Korea, toners are used not only to restore the skin's pH balance after cleansing, but also to prep the skin for better absorption of subsequent skincare products. Erborian's Ginseng Royal Silk Watery Cream is a perfect pick for this step – it contains ginseng root extract and silk cocoon extract to help brighten and Korean skincare is all about layering multiple products to get the most out of each one. Erborian has created a unique range of products that can be used together to create a Korean-inspired skincare routine that will leave your skin looking and feeling its best. To start, use the Erborian Ginseng Milk to cleanse your skin and prep it for the rest of your routine.
Follow with the Erborian Bamboo Waterlock Mask to hydrate and plump your skin. Finish off with the Erborian Ginseng Infusion Total Eye Cream to brighten and depuff the under eye area. For an extra boost of hydration, add a few drops of the Erborian Ginseng Royal Silk Water into your routine once or twice a week. This lightweight serum will help to lock in moisture and give you a dewy glow.
Before and After Results of Using Erborian products
Before and after results of using Erborian products show that this line can help improve the look of your skin. The before and after photos below demonstrate the power of these products to help you achieve a more youthful appearance. The first photo is of a woman who used Erborian's Ginseng Milk for one week. You can see that her skin looks brighter and more hydrated. She also has a more even skin tone.
The second photo is of a woman who used Erborian's BB Cream for two weeks. Her skin looks firmer and smoother, with fewer fine lines and wrinkles. She also has a more even skin tone. If you're looking for an effective skincare line that can help improve the look of your skin, we recommend trying Erborian.
Reviews and Testimonials from Customers

If you're on the hunt for a new skincare routine, you may have come across the Korean 10-step skincare regimen. Or, perhaps you've heard of the popular sheet mask trend sweeping Western countries, courtesy of Korea. Whatever your entry point into the world of Korean skincare may be, one thing is for sure: Koreans know a thing or two about taking care of their skin! One brand that has been making waves in the Western skincare market is Erborian. Erborian was founded in 2007 by Katalin Berenyi and Hojung Lee, with the aim of bringing high-quality Korean skincare products to a wider audience. So, what makes Erborian so special?
For starters, their products are formulated with traditional Korean herbal medicine and ingredients like ginseng and red ginseng extract. Additionally, all of their products are cruelty-free and free from harsh chemicals and artificial fragrances. But don't just take our word for it – see what some satisfied customers have to say about Erborian's products! "I'm obsessed with this stuff!!! I've never had such clear skin in my life." – @mollymalone1616 on Instagram "I've been using @erborian_uk CC Cream for a few months now & I love it! It gives good coverage without being too heavy & makes my skin look so glowy!"
Conclusion
We hope this article has given you a better understanding of the Korean skincare routine and how Erborian can help you unlock its secrets. With their unique range of products, they offer something special that can be tailored to your individual needs. Whether you are looking for a gentle cleanser or an intensive moisturizer, there is sure to be something in their line-up that can give your skin the boost it needs. Try out Erborian today and see how it works wonders on your complexion!