"Navigating Hostelworld: A Guide to Finding the Best Hostels for Your Budget"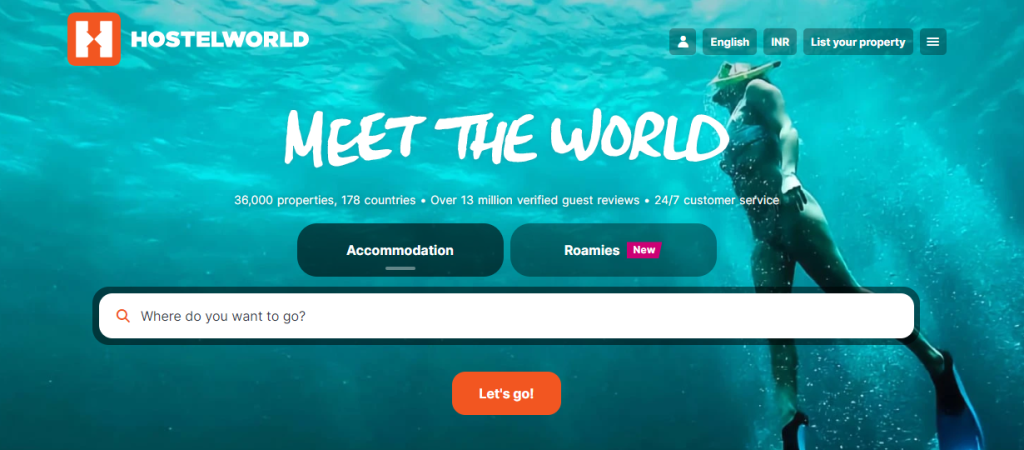 Are you ready to embark on an epic adventure but don't want to break the bank on accommodation? Look no further than Hostelworld! With its vast network of hostels around the world, you can find budget-friendly options that won't compromise your travel experience. But with so many choices, how do you navigate Hostelworld and find the perfect hostel for your budget? Don't worry, we've got you covered. In this guide, we'll show you exactly how to use Hostelworld's search functions and filters to pinpoint the best hostels for your needs. So let's get started and start planning your next unforgettable trip!
What is Hostelworld and How Does It Work?
Hostelworld is a website that allows travelers to search for and book hostels online. Hostels are often much cheaper than hotels, making them a popular option for budget-minded travelers.

To use Hostelworld, simply enter your travel dates and destination into the search engine on the homepage. You will then be presented with a list of available hostels in your chosen destination. You can filter the results by price, amenities, and more to find the perfect hostel for your needs.

Once you've found a hostel you like, you can read reviews from other travelers and book your stay directly on the website. Hostelworld offers a Best Price Guarantee, so you can be sure you're getting the best deal possible.

Pros and Cons of Using Hostelworld for Accommodation
There are a few things to consider when using Hostelworld for your accommodation needs. The first is that while Hostelworld does have a wide variety of listings, not all of them may be available at the time you need them. Additionally, some people have found that the prices on Hostelworld can be higher than what they would find if they booked directly with the hostel. However, many people also find the convenience and peace of mind that comes with using Hostelworld to be worth the price.
How to Search for the Best Hostels on Hostelworld
Hostelworld is the largest online hostel booking platform in the world, so it's no surprise that many travelers use it to find accommodations during their trips. However, with over 33,000 options to choose from, finding the best hostels on Hostelworld can be a daunting task.

Here are a few tips on how to search for the best hostels on Hostelworld:

1. Use the filters: Hostelworld has a variety of filters that you can use to narrow down your search. For example, you can filter by price, location, amenities, and more. This is a great way to find hostels that fit your specific needs and budget.

2. Read the reviews: Once you've narrowed down your search using the filters, take some time to read through the reviews of each hostel. traveler reviews can be very helpful in getting a sense of what a particular hostel is like.

3. Contact the hostel: If you still have questions about a particular hostel after reading the reviews, don't hesitate to contact them directly. Most hostels have staff who are more than happy to answer any questions you may have.

By following these tips, you should be able to find the best hostels on Hostelworld for your next trip!
Sorting and Filtering Your Hostelworld Results: Tips and Tricks
Sorting and filtering your Hostelworld results can help you find the best hostels for your budget. Here are some tips and tricks:

-To sort your results by price, click on the "Sort by" drop-down menu and select "Price (low to high)".

-To filter your results by amenities, click on the "Filter" button and select the amenities that are important to you.

-To see only hostels that have availability for your dates of travel, click on the "Availability" tab.

-To read reviews of hostels, click on the "Reviews" tab.

By following these tips, you will be able to find the best hostels for your budget on Hostelworld.
Understanding Hostelworld Reviews and Ratings
When reading Hostelworld reviews and ratings, it's important to keep in mind that every traveler has different standards and preferences. What one person may consider a "clean and comfortable" hostel could be another person's idea of a "dump."

That being said, there are some general trends that you can look for when reading reviews. For example, if a hostel gets consistently good reviews for its cleanliness, comfort, and value, then it's likely a safe bet. On the other hand, if a hostel has mostly negative reviews or no reviews at all, it's probably best to avoid it.

To get the most accurate picture of a hostel, try to read reviews from multiple sources. And when in doubt, always err on the side of caution – it's better to spend a few extra dollars on a nicer place than to end up in a sketchy situation.
Hostelworld Rewards Program: Is it Worth It?
Hostelworld offers a loyalty program for its customers who frequently use the site to book hostels. The Hostelworld Rewards program offers 10% off your next booking, as well as other benefits such as early check-in and late check-out. Is the Hostelworld Rewards program worth it?

To decide whether the Hostelworld Rewards program is worth it, consider how often you use the site to book hostels. If you book a hostel on Hostelworld once per year, you probably won't get enough value out of the program to justify signing up. However, if you book multiple hostels through Hostelworld each year, the 10% discount could add up to significant savings. In addition, the other benefits of the program (early check-in and late check-out) could be valuable if you often find yourself needing those services.
Common Mistakes to Avoid When Booking on Hostelworld
When booking on Hostelworld, it is important to avoid making common mistakes that could result in an unpleasant experience. Here are some common mistakes to avoid:

1. Not Reading the Reviews

Before booking a hostel, be sure to read the reviews. Hostelworld provides reviews from past guests so you can get an idea of what to expect. Avoid booking a hostel with bad reviews as this could ruin your trip.

2. Not Checking the Location

Make sure to check the location of the hostel before booking. You don't want to end up in a bad area of town or too far from the attractions you want to see. Use the map feature on Hostelworld to check the hostel's location.

3. Booking Last Minute

Don't wait until the last minute to book your hostel as you may not get your first choice. Try to book a few weeks in advance so you can have your pick of hostels.

4. not Knowing What You Want/Need

Before searching for a hostel, make a list of must-haves and nice-to-haves. This will help narrow down your search and ensure you find a hostel that meets all of your needs.

Alternatives to Hostelworld: Other Budget Accommodation Options
There are a number of other websites that list hostels and budget-friendly accommodation options, such as Hostelz.com, Backpacker.com, and Couchsurfing.com. You can also try searching for specific terms like "budget accommodation in [city]" or "cheap hostels in [city]."

Another option is to look for apartments or rooms for rent on websites like Airbnb or VRBO. This can be a great way to save money, especially if you're traveling with a group of people and can split the cost of the rental.

Finally, don't forget about traditional hotels! While they may not be as cheap as hostels, there are often ways to get discounts on hotel rooms, such as through AAA membership or corporate rates.
How to Make the Most of Your Hostelworld Experience
When you book a hostel on Hostelworld, you are booking a shared room in a backpacker hostel. This means that you will be sharing your room with other travelers from all over the world. But don't worry, most hostels have private rooms as well if you are looking for more privacy. Here are some tips to make the most of your Hostelworld experience:

1. Read the reviews: Before booking a hostel, be sure to read the reviews. Hostelworld has a comprehensive review system that can help you narrow down your search to find the perfect hostel for your needs.

2. Compare prices: Hostelworld offers a variety of price points to choose from. You can filter your search by price to find a hostel that fits your budget.

3. Check the amenities: Most hostels offer basic amenities like linens and towels, but some also offer extras like air conditioning or breakfast. Be sure to check the amenities before booking so you know what to expect.

4. Book in advance: If you know when you want to travel, it's best to book your hostel in advance. This way you can guarantee availability and get the best price possible.
Overall, there is no denying that Hostelworld is an invaluable resource for budget travelers. If you are looking for a large selection of hostels in any part of the world, it's definitely worth checking out. But keep in mind the potential drawbacks before booking your stay – such as possible overcrowding – and decide if using Hostelworld is the right choice for you.