My Honest Review of Skillshare: Is it Worth the Investment?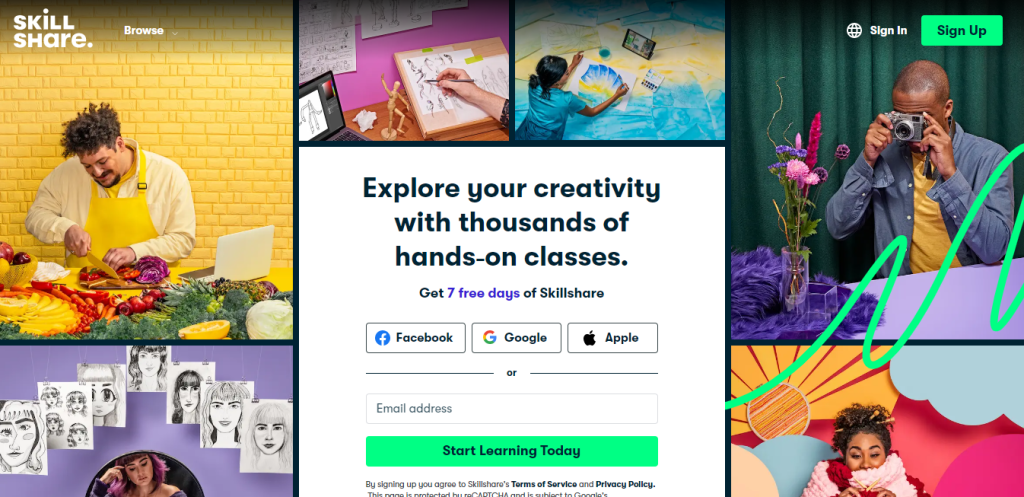 Are you tired of endlessly scrolling through social media, feeling unproductive and uninspired? Look no further than Skillshare, the online learning community where you can unlock your creativity and learn new skills at your own pace. But is it worth the investment? As someone who has personally tried Skillshare, I am here to give my honest review and share my experience with you. Join me as we explore the pros and cons of this popular platform and whether or not it's right for you. Let's dive in! Skillshare is an online platform that offers a variety of classes in topics like design, business, photography, and more. With over 25,000 classes and counting, they have something for everyone. The courses are taught by experts in their fields and are broken down into easy-to-follow lessons. Whether you're looking to hone existing skills or learn something new, you can find what you need on Skillshare. Additionally, Skillshare offers a subscription plan that allows users to access all the courses for one low price. This makes it an affordable way to access the content without having to pay for each class separately. Whether or not Skillshare is worth the investment will depend on your learning goals and budget. On the positive side, Skillshare offers a wide range of courses from experienced instructors at an affordable price. The subscription also grants users access to exclusive projects and resources that can be used to further their creative development. On the other hand, not all of the courses are up to date with industry standards and some may not meet your personal needs or expectations. It is important to do research on each course before signing up to ensure it meets your criteria. In conclusion, I believe Skillshare is a great platform for anyone.


Introduction to Skillshare
If you're like me, you're always on the lookout for new ways to learn. Whether it's a new cooking technique, or a new programming language, I'm always trying to add new skills to my toolbelt. That's why I was intrigued when I first heard about Skillshare. Skillshare is an online learning platform with over 25,000 courses on everything from cooking to business. The courses are taught by experts in their field, and you can access them anytime, anywhere. I decided to try out Skillshare to see if it was worth the investment. Here's my honest review of the platform.
Features of the Platform
Skillshare is an online learning platform with a focus on creativity and design. It offers over 25,000 courses in a variety of creative fields, including graphic design, web development, photography, and more. One of the best features of Skillshare is its community of creatives. The platform allows you to connect with other creators and collaborate on projects. You can also give and receive feedback from the Skillshare community. Another great feature of Skillshare is its flexibility. You can learn at your own pace and schedule, and there are no deadlines or due dates for courses. You can also access courses offline, so you can continue learning even if you're not connected to the internet. Finally, Skillshare offers a variety of membership options to suit your needs. You can choose a monthly or annual subscription, or pay per course. There is also a free option that gives you access to some content, but not all courses.
Course Quality and Variety
When it comes to the quality of the courses on Skillshare, I have to say that I'm impressed. There is a great variety of courses available, covering everything from design and illustration to business and entrepreneurship. And, from what I've seen, the quality of the courses is generally very good. The majority of the courses are taught by professional instructors who are experts in their field. They're often able to provide detailed insights and helpful tips that you can't find in other places. And, because the courses are typically short and to-the-point, you can get through them quickly and start putting what you've learned into practice right away. Of course, as with anything, there are always a few duds here and there. But overall, I've been really happy with the quality of the courses on Skillshare. If you're looking for a way to learn new skills or improve your existing ones, I would definitely recommend checking out Skillshare.



Student Support Services
Skillshare offers a variety of student support services to help you succeed in your online courses. You can access tutoring services, academic advising, and technical support through the Student Success Center. The center also provides career development resources and job search assistance. In addition, Skillshare offers an online community where you can connect with other students and instructors. The community is a great place to ask questions, get advice, and find motivation and support.
My Final Thoughts on Skillshare
Overall, I really enjoyed my experience with Skillshare and would recommend it to anyone looking for an affordable, online learning platform. The course quality is generally quite good and there is a wide variety of courses to choose from. I especially appreciate the community aspect of Skillshare, as it makes the learning process more enjoyable and interactive. That said, I do have a few criticisms. First, I think the pricing could be more transparent. It's not always clear how much a course will cost until you're about to purchase it, which can be frustrating. Second, I found that some of the courses were a bit too basic for my taste. I would have liked to see more advanced courses on offer. All in all, though, I think Skillshare is a great resource for anyone interested in online learning. It's affordable, user-friendly, and offers a wealth of courses on a variety of topics. If you're willing to put in the time and effort, you can definitely learn something new on Skillshare.


Conclusion
In conclusion, Skillshare is a great resource for those looking to learn new skills and advance their professional careers. With a wide range of courses from all kinds of subjects, there's something for everyone on this platform. Additionally, the learning experience is kept interesting with interactive content such as projects and live classes. If you are dedicated towards advancing your career or hobby with online learning, then Skillshare might be worth the investment in order to gain access to its premium services.