Hostinger Website Review: The Ultimate Tool for DIY Websites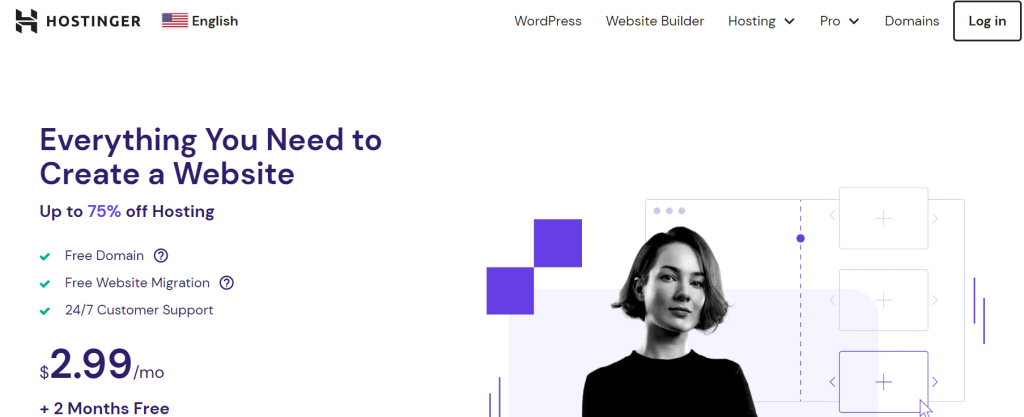 Introduction to Hostinger
Are you looking to build your own website but don't know where to start? Look no further than Hostinger – the ultimate tool for DIY websites! Whether you're a tech-savvy entrepreneur or a creative individual with big dreams, Hostinger has got everything you need to bring your vision to life. With its user-friendly interface, affordable pricing plans, and an array of powerful features, Hostinger is truly a game-changer in the world of web hosting. So buckle up and get ready for an in-depth review of this incredible platform that's revolutionizing the way we create websites. Let's dive in!
Features of Hostinger
When it comes to choosing a web hosting provider, one of the most important factors to consider is the features they offer. Hostinger doesn't disappoint in this regard, as it provides a wide range of features that make building and managing your website a breeze.

One notable feature of Hostinger is its easy-to-use website builder. With just a few clicks, you can choose from hundreds of professionally designed templates and customize them to suit your needs. Whether you're starting an online store or creating a personal blog, Hostinger's website builder has got you covered.

Another great feature is the unlimited bandwidth and storage that Hostinger offers. This means that no matter how much traffic your site receives or how many files you need to upload, you won't have to worry about running out of space or experiencing slow loading times.

Hostinger also provides excellent security features such as SSL certificates and daily backups. These ensure that your website data remains secure and protected at all times.

In addition, Hostinger supports multiple programming languages including PHP, Python, Ruby on Rails, and more. This flexibility allows developers to easily build and deploy their websites using their preferred programming language.

Hostinger offers 24/7 customer support via live chat for any technical issues or questions you may have along the way. Their team is knowledgeable and responsive, ensuring that any problem you encounter will be resolved quickly.
Plans and Pricing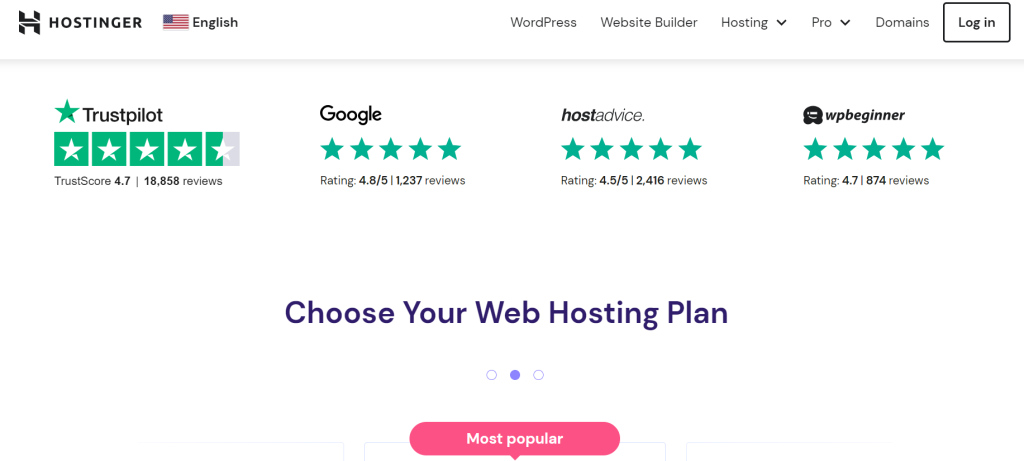 Hostinger offers a range of plans and pricing options to cater to the diverse needs of its users. Whether you're just starting out with a small personal website or running a large e-commerce business, Hostinger has something for everyone.

Their Shared Hosting plans are perfect for those looking to launch their first website on a budget. With prices starting at just $0.99 per month, you can get access to all the essential features like 24/7 customer support, easy-to-use control panel, and one-click WordPress installation.

If you need more resources and enhanced performance, their Cloud Hosting plans are worth considering. Starting at $9.99 per month, these plans offer dedicated resources and guaranteed uptime along with advanced caching technology for faster loading speeds.

For websites that require even higher levels of performance and security, Hostinger's VPS Hosting plans are an excellent choice. Starting at $3.95 per month, these plans give you full root access and complete control over your virtual server environment.

And if you're expecting high traffic volumes or have specific requirements for your website hosting, Hostinger offers powerful Dedicated Server solutions starting from $59.99 per month.

No matter which plan you choose, all Hostinger customers benefit from free SSL certificates for secure browsing experience as well as a 30-day money-back guarantee in case they're not satisfied with the service.

With such competitive pricing options across various hosting types combined with top-notch features and reliable customer support, it's no wonder why so many DIY website creators choose Hostinger as their preferred web hosting provider!
Pros and Cons of Hostinger
When it comes to choosing a web hosting provider, weighing the pros and cons is crucial. Let's take a closer look at what makes Hostinger stand out from the crowd, as well as some areas where it may have room for improvement.

One of the major advantages of Hostinger is its affordability. With their budget-friendly plans, even those on a tight budget can easily get started with creating their own website. Additionally, they offer a wide range of features that are included in all their plans, such as free SSL certificates and unlimited bandwidth.

Another pro is the user-friendly interface. Hostinger has designed an intuitive control panel that makes managing your website simple and straightforward, even if you're not tech-savvy. The one-click installer allows you to quickly install popular CMS platforms like WordPress or Joomla with just a few clicks.

Hostinger also boasts impressive uptime rates, ensuring that your website will be up and running smoothly most of the time. This is essential for online businesses or anyone who wants to provide visitors with uninterrupted access to their site.

However, there are some drawbacks worth mentioning too. Support options can be limited compared to other providers – while they do offer 24/7 live chat support, phone support isn't available in all countries. Some users have also reported occasional slow loading times for websites hosted on Hostinger servers.

Hostinger offers great value for money with its affordable pricing plans and feature-rich offerings. It's definitely worth considering if you're looking for an easy-to-use platform to build your DIY website.
How to Get Started with Hostinger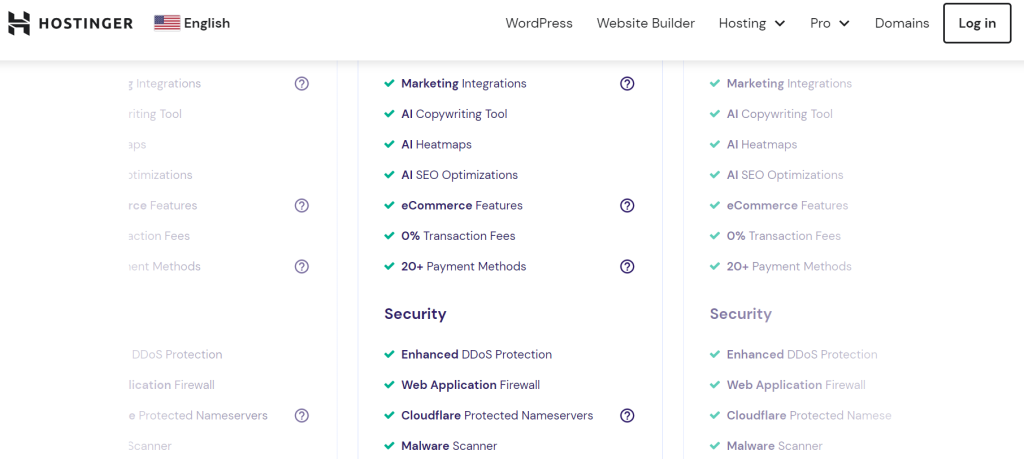 Getting started with Hostinger is a breeze. Follow these simple steps to set up your DIY website:

1. Choose a plan: Explore the range of hosting plans offered by Hostinger and select the one that best suits your needs.

2. Register a domain: If you don't have a domain name yet, you can register one through Hostinger's easy-to-use interface.

3. Set up your website: Use the powerful website builder or install popular CMS platforms like WordPress, Joomla, or Drupal to build your site.

4. Customize and design: Make use of Hostinger's wide selection of templates, themes, and plugins to create a unique and visually appealing website.

5. Publish and optimize: Once you're satisfied with how your site looks, hit the publish button! Don't forget to optimize it for search engines using built-in SEO tools provided by Hostinger.

6. Monitor performance: Keep track of how well your website is performing using insightful analytics provided by Hostinger's dashboard.

7. Scale as needed: As your business grows, take advantage of additional features and resources offered by higher-tier plans to ensure seamless scalability.

With its user-friendly interface, robust features, affordable pricing plans, and excellent customer support, Hostinger truly stands out as an ultimate tool for DIY websites!

So why wait? Take control of building your online presence today with Hostinger!