Simons: The Ultimate Shopping Destination for Fashion Enthusiasts – A Detailed Review


Welcome fashion enthusiasts! Are you on the hunt for a shopping destination that offers unparalleled style, quality, and variety? Look no further than Simons – your ultimate dreamland of fashion. With its rich history, unique offerings, and unforgettable shopping experience, Simons has secured its place as one of the top destinations for all things trendy and chic. Whether you're in search of Hush Puppies footwear or True Religion denim, Simons is the go-to spot to satisfy your sartorial desires. Join us as we take a detailed look at what sets Simons apart from the rest and why it should be at the top of every fashion lover's must-visit list! So fasten your seatbelts and get ready for an exciting journey through this renowned fashion haven!
History of Simons
Simons, a renowned fashion retailer in Canada, has a rich and fascinating history that spans over 180 years. It all began in 1840 when John Simons opened his first store in Quebec City. Starting as a small dry goods store, Simons quickly established itself as a trusted destination for quality merchandise.

As the years went by, Simons expanded its offerings and locations, becoming one of the leading fashion retailers in Canada. The company's commitment to innovation and staying ahead of trends is evident through their constant evolution and growth.

Throughout its history, Simons has remained true to its founding principles: offering customers an exceptional shopping experience with unparalleled customer service. They have always strived to provide customers with access to the latest styles from both international designers and emerging local talent.

Simons' dedication to supporting Canadian designers sets them apart from other retailers. They have consistently championed homegrown talent and fostered creativity within the industry.

Over the years, Simons has also embraced sustainability initiatives by introducing eco-friendly practices into their operations. This commitment further highlights their forward-thinking approach towards both fashion and environmental responsibility.

As we look back at Simons' remarkable journey, it is clear that they have played an integral role in shaping the Canadian retail landscape. With their long-standing reputation for quality products and unmatched customer service, it's no wonder that they are considered one of the ultimate shopping destinations for fashion enthusiasts across Canada.

Simons' history is not just about longevity but also about adaptability and innovation. Their ability to stay relevant while remaining true to their core values has made them a beloved retailer among Canadians nationwide.
What Makes Simons Unique?
Simons is not your average department store. It stands out from the crowd with its unique approach to fashion and shopping. One of the things that sets Simons apart is its commitment to supporting Canadian designers and brands. With a focus on promoting local talent, Simons offers shoppers an opportunity to discover new and exciting fashion pieces that they won't find anywhere else.

Another factor that makes Simons stand out is their dedication to sustainability. They have implemented various eco-friendly initiatives, such as using renewable energy sources and reducing waste in their operations. This commitment to environmental responsibility resonates with conscious consumers who are looking for ways to shop more ethically.

In addition, Simons strives to create a welcoming and inclusive shopping experience for all customers. Their stores feature diverse mannequins representing different body shapes, sizes, and abilities. This inclusivity extends beyond their visual displays, as they also offer a wide range of sizes in their clothing collections.

Furthermore, Simons takes pride in curating a carefully selected assortment of high-quality brands from around the world. From luxury labels like True Religion to iconic footwear brand Hush Puppies, shoppers can find an extensive range of top-notch products at Simons.

What makes Simons truly unique is its ability to combine fashion-forward offerings with social consciousness and inclusivity. Whether you're searching for designer pieces or sustainable options, this department store has something special for every fashion enthusiast
The Simons Shopping Experience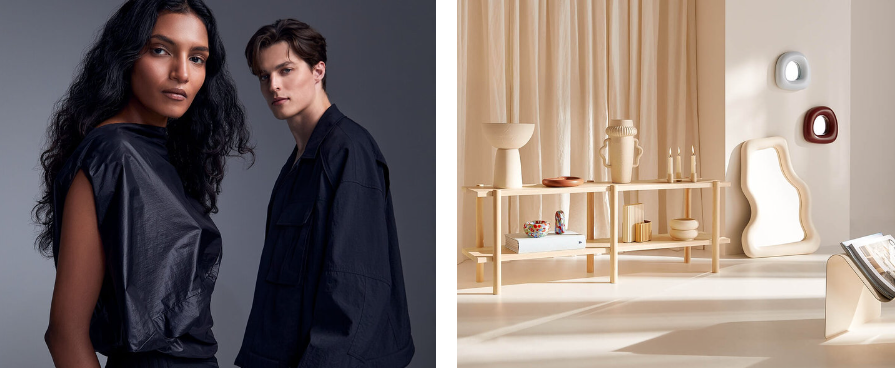 When it comes to shopping, the experience is just as important as the products themselves. At Simons, they understand this concept and have created a shopping experience that is truly one-of-a-kind.

As soon as you walk through the doors of a Simons store, you are greeted by an inviting atmosphere that combines modern design with a touch of elegance. The bright and spacious layout allows for easy browsing and creates a sense of excitement as you explore their vast selection of fashion-forward clothing and accessories.

One thing that sets Simons apart from other retailers is their commitment to customer service. The knowledgeable staff members are always on hand to assist you in finding the perfect outfit or accessory. They provide personalized attention without being pushy, ensuring that your shopping experience is enjoyable from start to finish.

Another highlight of the Simons shopping experience is their attention to detail when it comes to presentation. Every item in the store is carefully curated and displayed with care, making it easy for shoppers to find exactly what they're looking for. Whether you're searching for hush puppies shoes or True Religion jeans, everything is organized in a way that makes sense and enhances your overall shopping experience.

Simons also understands the importance of convenience in today's fast-paced world. That's why they offer online shopping options along with their brick-and-mortar stores. Their user-friendly website allows customers to easily browse through their extensive inventory and make purchases from the comfort of home.

In addition, Simons frequently hosts special events such as trunk shows and designer appearances, adding an extra layer of excitement to the overall shopping experience. These events allow customers to interact with industry professionals while discovering new fashion trends firsthand.

The Simons shopping experience goes above and beyond expectations. From their stylish stores filled with top-notch merchandise to their friendly staff members who are passionate about helping customers find exactly what they need, every aspect has been carefully crafted with shoppers in mind. So, whether you're a long-time fashion enthusiast or just starting.
Simons' Fashion Offerings
When it comes to fashion, Simons is a true trendsetter. With its carefully curated selection of clothing and accessories, this retailer offers something for every style-conscious shopper. From casual streetwear to high-end designer pieces, Simons has it all.

One of the standout features of Simons' fashion offerings is their emphasis on quality. They carry top brands like Hush Puppies, Rosetta Stone, and True Religion, ensuring that shoppers can find well-made pieces that will stand the test of time. Whether you're looking for comfortable shoes or stylish denim, Simons has you covered.

But what really sets Simons apart is their commitment to diversity in fashion. They offer a wide range of sizes and styles to cater to customers with different body types and preferences. Plus, they feature both established designers and up-and-coming talent, making it easy for shoppers to discover unique and innovative designs.

In addition to clothing and accessories, Simons also carries a variety of beauty products. From luxurious skincare brands to trendy makeup lines, they have everything you need to complete your look from head to toe.

Shopping at Simons is not just about buying clothes – it's an experience in itself. The stores are beautifully designed with sleek modern interiors that create an inviting atmosphere for shoppers. And if you prefer online shopping, their user-friendly website makes browsing through their extensive collection a breeze.

Whether you're looking for everyday essentials or statement pieces that will turn heads wherever you go, Simons has got you covered with their diverse range of fashionable options. So why settle for anything less when you can shop at the ultimate destination for fashion enthusiasts? Head over to Simon's today!
Conclusion


Simons truly stands as the ultimate shopping destination for fashion enthusiasts. With its rich history, unique offerings, and exceptional shopping experience, Simons has become a go-to brand for those seeking style and quality. Whether you're in search of trendy pieces from Hush Puppies or are interested in expanding your language skills with Rosetta Stone, Simons offers an extensive range of fashion options to suit every taste.

From its humble beginnings as a small dry goods store to its expansion into a leading Canadian retailer, Simons has always prioritized authenticity and innovation. The brand's commitment to providing an unparalleled shopping experience is evident in its beautifully designed stores that exude elegance and sophistication.

One of the factors that set Simons apart from other retailers is their wide array of high-end brands like True Religion. This allows customers to find everything they need under one roof while ensuring they have access to the latest trends and styles. Whether you're looking for designer clothing, accessories, or home decor items, Simons has it all.

Moreover, the knowledgeable staff at Simons goes above and beyond to assist customers in finding exactly what they're looking for. Their passion for fashion shines through as they provide personalized advice and styling tips tailored to individual preferences.

In conclusion (without explicitly stating it), if you're a fashion enthusiast seeking a unique shopping experience coupled with top-notch brands like Hush Puppies,Rosetta Stone,True Religion,and more – look no further than Simons! Prepare yourself for an unforgettable journey through the world of fashion where you'll discover excellent products alongside outstanding customer service.