The Ultimate Udacity Review: Is It Worth Your Time and Money?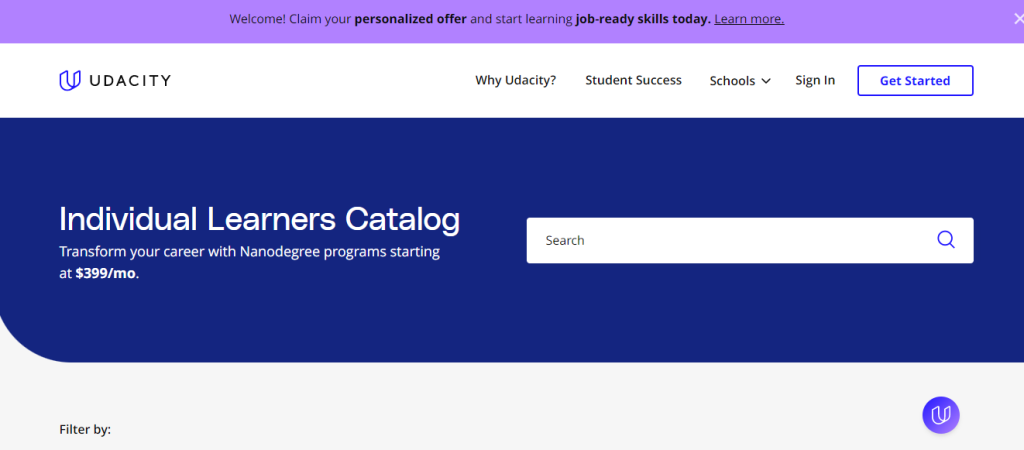 Udacity is an online education platform that offers massive open online courses (MOOCs). The company was founded by two Stanford University professors, Sebastian Thrun and Peter Norvig, in 2011. Udacity's mission is to "empower people with the skills they need to get a job." Udacity offers courses in a variety of subjects, including programming, data science, artificial intelligence, and more. The courses are self-paced and include video lectures, quizzes, and projects.
Many of the courses are free; however, some of the more advanced courses require a paid subscription. Udacity also offers Nanodegrees, which are specialized programs that help you gain the skills you need for a specific job. Nanodegrees include coursework, projects, mentorship, and career services. They typically take 4-6 months to complete and cost $200-$300 per month. Whether you're looking to learn new skills or change careers, Udacity can help you reach your goals.
Overview of Udacity Courses
Udacity offers a variety of courses that can be taken at your own pace. They range in topic from programming to data science to self-driving cars. You can choose to either pay for a course or take it for free. The paid courses come with a certificate of completion and access to additional resources, such as a forum where you can ask questions and get feedback from other students. The free courses do not come with a certificate but still provide you with the same content as the paid courses.
In addition, taking the free course does not commit you to finishing it; you can stop at any time without penalty. This makes Udacity an attractive option for people who want to learn new skills but may not have the time or money to commit to a full course. Udacity offers a wide variety of courses, all of which are designed to help you learn the skills you need to succeed in your field. Whether you're looking to learn programming, web development, data science, or artificial intelligence, Udacity has a course for you.
Each Udacity course is broken down into bite-sized lessons that you can complete at your own pace. You'll also have access to project files and quizzes to test your knowledge as you go. And if you get stuck, Udacity's team of expert mentors are always on hand to help. Best of all, Udacity courses are completely free! You can sign up for as many courses as you like and never pay a dime. Plus, Udacity offers Nanodegree programs which are job-focused programs that come with additional benefits like one-on-one career coaching and project reviews.
Pros of Udacity Courses
Udacity courses are very comprehensive and provide a lot of value for the money. Udacity courses offer a number of advantages that make them worth your time and money. First, they are flexible and allow you to learn at your own pace. You can start and stop the courses as needed, and you can access the material anytime, anywhere. Second, Udacity courses are interactive and engaging. They include quizzes, projects, and other activities that help you learn the material. Third, Udacity courses are affordable. They cost less than traditional college courses, and you can often get financial aid to help pay for them. Udacity courses provide real-world experience. You'll work with industry-leading instructors and develop the skills you need to succeed in your career.
Price Comparison for Different Course Types
Udacity offers a variety of courses, ranging from free introductory courses to more advanced, nanodegree programs. The cost of Udacity courses varies depending on the type of course you choose. Introductory courses are free, and more advanced courses range in price from $200-$300. Nanodegree programs are more expensive, costing between $400 and $800. To get an idea of how Udacity course prices compare to other online learning platforms, we've compiled a list of similar courses from different providers.
For each course, we've listed the price as well as a brief description. Udacity Course: Intro to Computer Science Price: Free Description: This course introduces students to basic computer programming concepts. Topics include variables, data types, control structures, and software engineering principles. Similar Courses: Coursera Course: Programming for Everyone (Python) Price: $49/month (or $390 for full access) Description: This course introduces students to Python programming basics.
Topics include variables, data types, control structures, and programmatic problem solving. Udemy Course: The Complete Python 3 Course: Go from Beginner to Advanced! Price: $9.99 Description: This course helps students learn Python programming through hands-on exercises and projects. Topics include variables, data types, control structures, and object-oriented programming principles.
Tips for Getting the Most Out of Your Learning Experience with Udacity
In order to get the most out of your learning experience with Udacity, there are a few things that you can do. First, it is important to set some goals for yourself and make sure that you are committed to reaching them. Second, take advantage of all of the resources that Udacity has to offer, including the forums, office hours, and course materials. Third, don't be afraid to ask for help when you need it – there are many people who are willing to help you succeed. Remember to have fun and enjoy the learning process! When you embark on a Udacity learning experience, there are some things you can do to help ensure you get the most out of your investment.
Here are a few tips: 1. Have realistic expectations. Don't expect to become an expert in a field overnight. Learning takes time, and even with Udacity's excellent course offerings, you'll need to put in the effort to see results. 2. Set aside dedicated study time each week. In order to make progress, you'll need to commit some regular time each week to working through your courses. 3. Create a study plan and stick to it.
Once you've identified which courses you want to take, map out a plan for completing them. This will help keep you on track and motivated. 4. Take advantage of all the resources Udacity offers. In addition to the courses themselves, Udacity provides a wealth of other resources like forums, office hours, project feedback, and more. Make use of these resources to get the most out of your learning experience. 5. Be patient and don't give up! Learning new things can be challenging, but it's important to stick with it even when things get tough. If you persevere, you'll be rewarded with new knowledge and skills that will benefit you greatly in the long run
Review of User Experiences with Udacity

Since its launch in 2010, Udacity has become one of the most popular online learning platforms. With over 50 million users and 10,000 courses, it's safe to say that Udacity is here to stay. But what do users think about their experiences with Udacity? Are they happy with the quality of the courses? Do they feel like they're getting their money's worth?
To get a better sense of what Udacity users think, we've compiled a list of reviews from around the web. Here's what they had to say: Positive Reviews: • "Udacity courses are well-made and comprehensive." – PCMag • "The best part of Udacity is the interactivity built into each course." – CNET • "I am thoroughly enjoying my experience with Udacity." – CourseReport Negative Reviews: • "Udacity courses can be hit or miss." – Mashable • "I found myself frustrated with Udacity on more than one occasion." – The Muse
Final Thoughts on Udacity
I've really enjoyed my time with Udacity. I've found the courses to be well-made and engaging, and the community to be supportive. The prices are fair, especially given the quality of the courses. And I appreciate that Udacity is continuing to add new courses and features. That said, I do have a few reservations. First, as I mentioned, Udacity is still very much a work in progress.
There are areas where the platform needs improvement, and there are still some bugs that need to be ironed out. Second, while Udacity does offer some free courses, most of the good stuff is behind a paywall. So if you're on a tight budget, Udacity may not be the best option for you. Though, I think Udacity is a great option for anyone looking to learn new skills or expand their knowledge base.
If you're willing to pay for high-quality courses and put in the effort required to complete them, then Udacity is definitely worth your time and money.